Strength in Numbers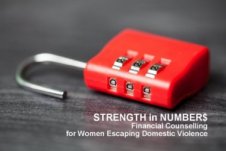 Strength in Numbers offers support to people who are escaping Domestic Violence and
who wish to gain control over their financial circumstances.
A skilled and qualified Financial Counsellor is available to deliver professional financial counselling services based on an assessment of the client's strengths, needs and priorities using a client-centred approach
Each client will be entitled to an initial five hours of counselling services (including work that the counsellor does on the client's behalf outside of the counselling sessions), with the possibility of extending the hours upon the recommendation of the financial counsellor.
The client may also be referred to another agency to continue the counselling process if the counsellor deems it to be advantageous to the client.